(Sakai Takayuki Grand Chef SP-Type III, Sakai Takayuki Kasumitogi (White Steel) Engraving, and Sakai Takayuki HANAFUBUKI Ginsan Damascus)
Sakai Takayuki is known for being one of the biggest manufacturers of Japanese knives in the world, as well as the top knife maker in the city of Sakai. The company is from Sakai, which is considered as a 'Samurai city' in Osaka and also the birthplace of Japanese sword making and handcrafted Japanese cutlery since the 14th century.
Similar to those of the Samurai Japanese swords, Sakai knives are made from High Carbon steel and are forged using many of the similar techniques used to make Samurai blades. Highly skilled craftsmen and blacksmiths apply special techniques during the manufacturing process of these knives, which are known to have excellent toughness, sharpness, edge-life, design, and functionality.
Let's check out some of the best Sakai Takayuki knife series below.
Sakai Takayuki Grand Chef SP-Type III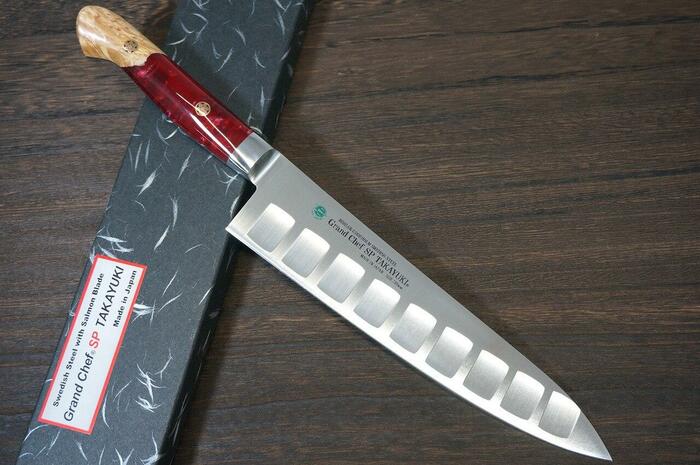 The Grand Chef line of knives are made from AEB-L steel. This steel is manufactured by the Uddeholm Steel Company, which was first established in the 1670s at Munkfors district in Sweden. It is known as one of the world's top leading manufacturers of precision-rolled steel products. AEB-L steel contains an extremely low amount of phosphorous and sulfur; this steel is known to be one of the finest in the world. Sakai Takayuki Grand Chef knife series are all made out of the AEB-L steel, which is known for its exceptional sharpness, including abrasion and corrosion resistance. These knives feature a 60 HRC hardness rating and are extremely easy to sharpen.
Sakai Takayuki Grand Chef SP Type-III knife series are incredibly sharp, light in weight, and extremely durable. The knives are 100% made with AEB-L steel, with the lowest impurities and are all forged in Japan. The knives are light in weight as they are processed to be thinner. However they feature a 61-62 HRC hardness rating, which is amazing. Additionally, the handles are unique and stylish – all handcrafted out of a color-stabilized hybrid resin with a polished stainless bolster. These knives are extremely durable, easy to grip, well-balanced, and are highly reviewed and recommended by many culinary experts and chefs around the world.
> Sakai Takayuki Grand Chef SP-Type III – Hocho Knife
Sakai Takayuki Kasumitogi (White Steel) Engraving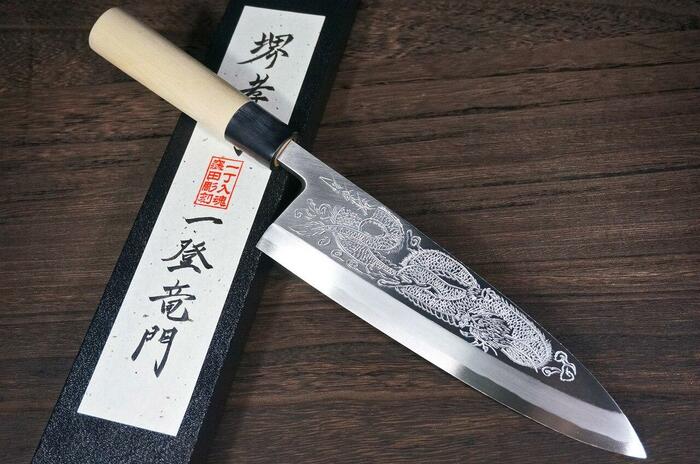 Kasumitogi engraved knives by Sakai Takayuki are indeed a popular line of traditionally forged knives great for first-time users as well as more experienced chefs. These knives feature traditional Japanese illustrations or Kanji characters which are hand-engraved on the blades by some of the most skilled art-engravers in Japan.
The blades are made with White Paper No.3 Steel, which has been used widely in Japan for a very long time and are extremely sharp and hard – as it holds its edge very well, making them particularly suitable for gentle preparation of foods. The handles are made of Magnolia, are U-shaped, easy to grip, and are comfortable in the hands.
> Sakai Takayuki Kasumitogi (White steel) Engraving – Hocho Knife
Sakai Takayuki HANAFUBUKI Ginsan Damascus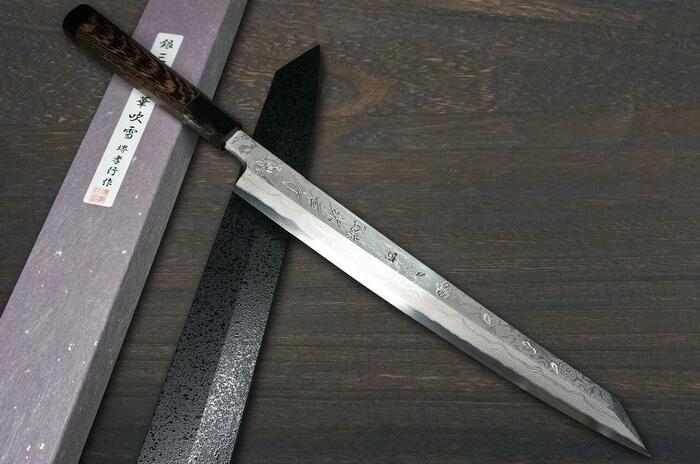 The HANAFUBUKI arch-shaped Damascus knives are forged and sharpened by some of the most skilled craftsmen in the city of Sakai.
These particular Damascus patterned blades may feature beautiful hand-engraved Sakura (cherry blossom) patterns, and are made of steel from Hitachi Metals, a well-known and reputable Japanese steel company. Blades made from Hitachi's special stainless steel are known for its sharpness and excellent edge retention, similar to that of carbon steel.
These blades are extremely stylish – portraying the patterns and designs on the blades to recreate an element of traditional Japanese swords. The handles are made out of Wenge wood, while the Japanese-style octagonal figure ensures the blade fits comfortably in the user's hand. As these blades are originally made for professional use, you can expect them to have excellent sharpness, unparalleled durability, and provide good comfort.
> Sakai Takayuki HANAFUBUKI Ginsan Damascus – Hocho Knife
Summary
As these three Sakai Takayuki knife series are well-known for quality, durability, performance, and unique designs, let's not waste any more time and proceed to choose the right blade for our dinner preparation!