img by : hocho-knife.com
Sakai Takayuki is known for being the top knife maker in Sakai, Japan and are one of the biggest manufacturers of Japanese knives around the world. The company is located in the samurai city of Sakai, which happens to be the birthplace of Japanese sword making and handcrafted Japanese cutlery since the 14th century.
Sakai knives are made from high carbon steel and forged using many of the same techniques used to make Japanese swords. The knives, which are known for its high quality, excellent edge-life, overall durability, and functionality are made by highly skilled craftsmen who apply special techniques during the manufacturing process.
Let's check some of the best Sakai Takayuki knives below.
Sakai Takayuki 33-Layer VG10 Damascus Urushi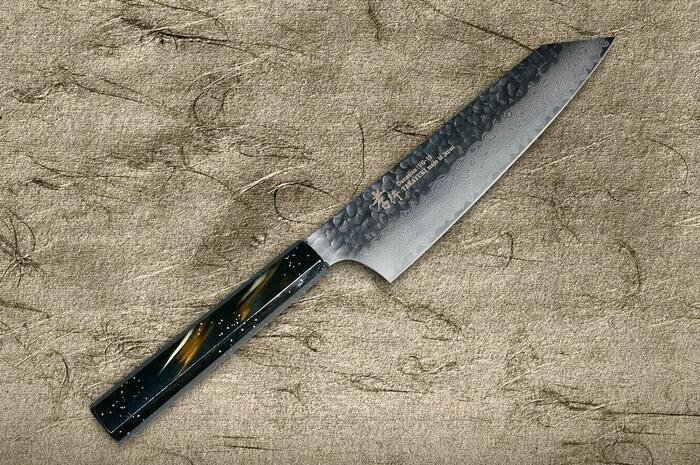 These knives are made out of 33 layers of Damas steel, folded and wrapped around a VG-10 core and are double-beveled. Produced in Fukui, Japan by the Takefu Special Steel Corporation, knives made with VG-10 steel make excellent kitchen knives as they have excellent edge retention and combine the corrosion resistance of stainless steel along with the hardness of carbon steel.
Each blade is hand sharpened, and the exposed edges of the knives are the sharpest that can be manufactured. The layered Damascus steel around the VG-10 core provides shock absorbing elements and makes the knives easier to sharpen. Recalling the images of Japanese tradition, the handles on these knives are Half Rounded Octagonal Oak wood and dyed with Japanese lacquer (Urushi).
Lastly, mahogany wood is used for the ferrule/bolster as it's more durable and less prone to cracking. These knives come in a wide range of models such as Gyuto (chef knife), Santoku (vegetable) and Petty (utility knife).
> Sakai Takayuki 33-Layer VG10 Damascus Urushi Selections
Sakai Takayuki Homura Guren (Aogami 2 steel)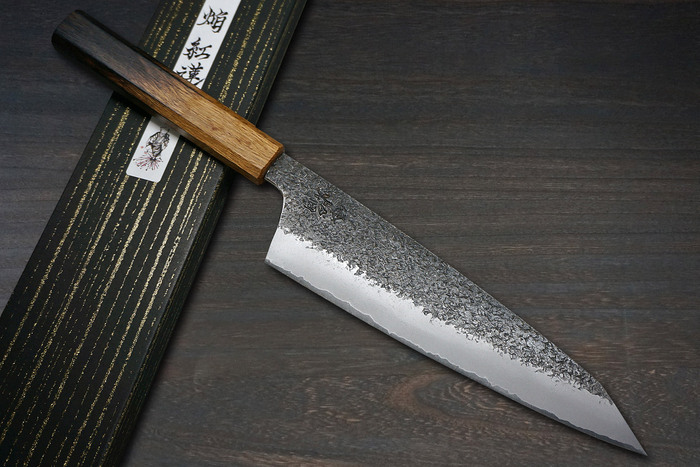 These knives are extremely high-quality, single-beveled and are hammer forged by the skilled blacksmith Itsuo Doi using Blue 2 steel. Mr. Itsuo Doi is the son of legendary blacksmith Keijiro Doi, and together the Doi family has produced some of the finest hand-forged knives for over 70 years.
The hand-hammered finish of the Homura Guren knives, coupled with its convex grinds and tried and tested profiles make these knives not just lookers, but also performers. The Blue Paper (Aogami) No. 2 Steel knife is made from Yasugi steel, which is a prime high carbon steel and was specifically designed for tools and knives.
The Doi family emblem is engraved near the logo on the blade. The handles of the knives are Half Rounded Octagonal Oak wood with a burnt-finished and dyed with Japanese lacquer (Urushi).
> Sakai Takayuki Homura Guren (Aogami 2 steel) Selections
Sakai Takayuki Zangetsu Ginsan Silver Steel No.3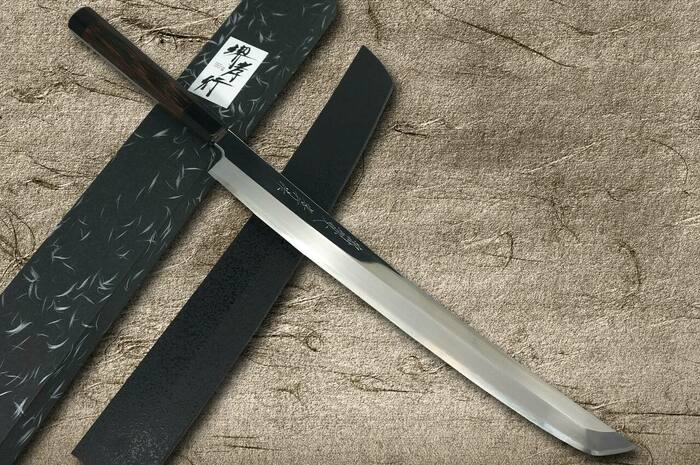 The Zangetsu knives by Sakai Takayuki are a series of high-performance knives used mainly for sushi preparation. Zangetsu knives are made with an arch-shape and are carefully forged and sharpened by some of the most skilled craftsmen in Sakai.
The Ginsan No. 3 steel knives are made with Hitachi's Special Steel which features a similar edge retention and sharpness when compared to carbon steel. These knives feature unparalleled durability and rust-resistance and the stylish arch-shape recreates an element of traditional Japanese swords.
The Wenge wood handle features a Japanese style octagonal figure which fits comfortably in anyone's hands, and the sword guard is made Buffalo Tsuba, making the knife extremely high quality and made for professional use.
> Sakai Takayuki ZANGETSU Ginsan Silver Steel No.3 Selections
---
These are another three beautiful knives manufactured by Sakai Takayuki. They are exceptional in quality, design, and will make your cooking much more enjoyable. Try them today.